Please click link to see Thomasville City Schools COVID 19 Updated Protocol - February 2022.
https://5il.co/15xi6

Upcoming BOE Meetings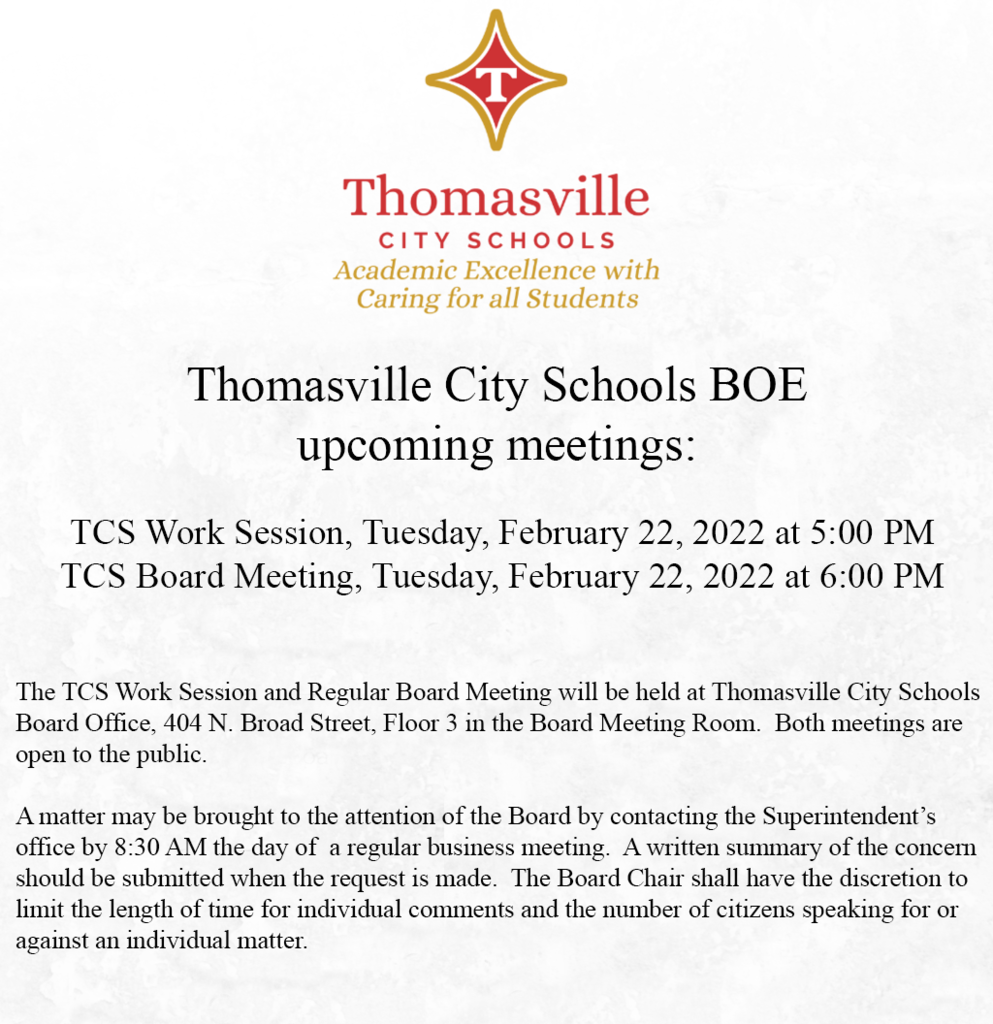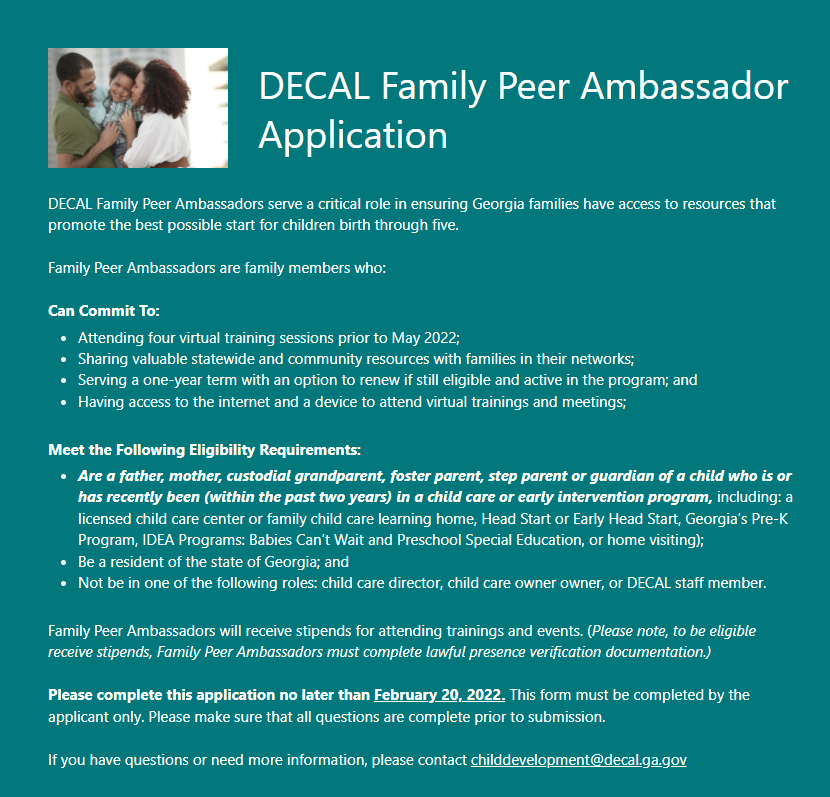 FREE COVID-19 Vaccines **$50 Gift Cards for 1st and 2nd dose given** See flyer for more details.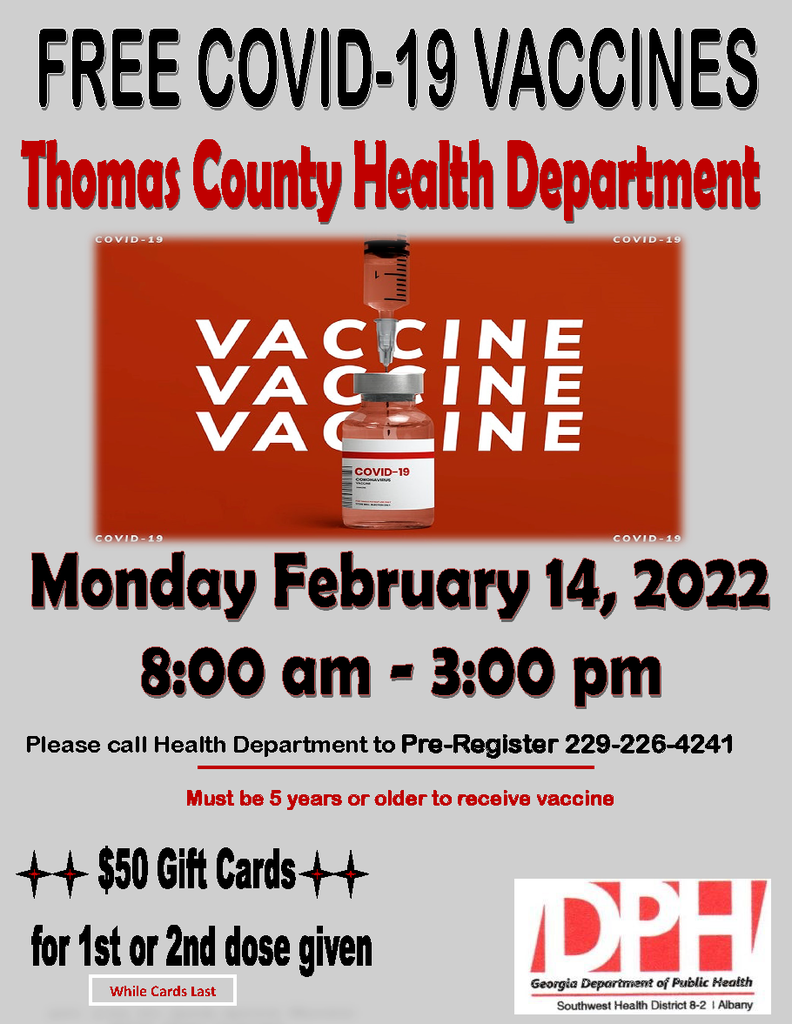 Upcoming BOE Meetings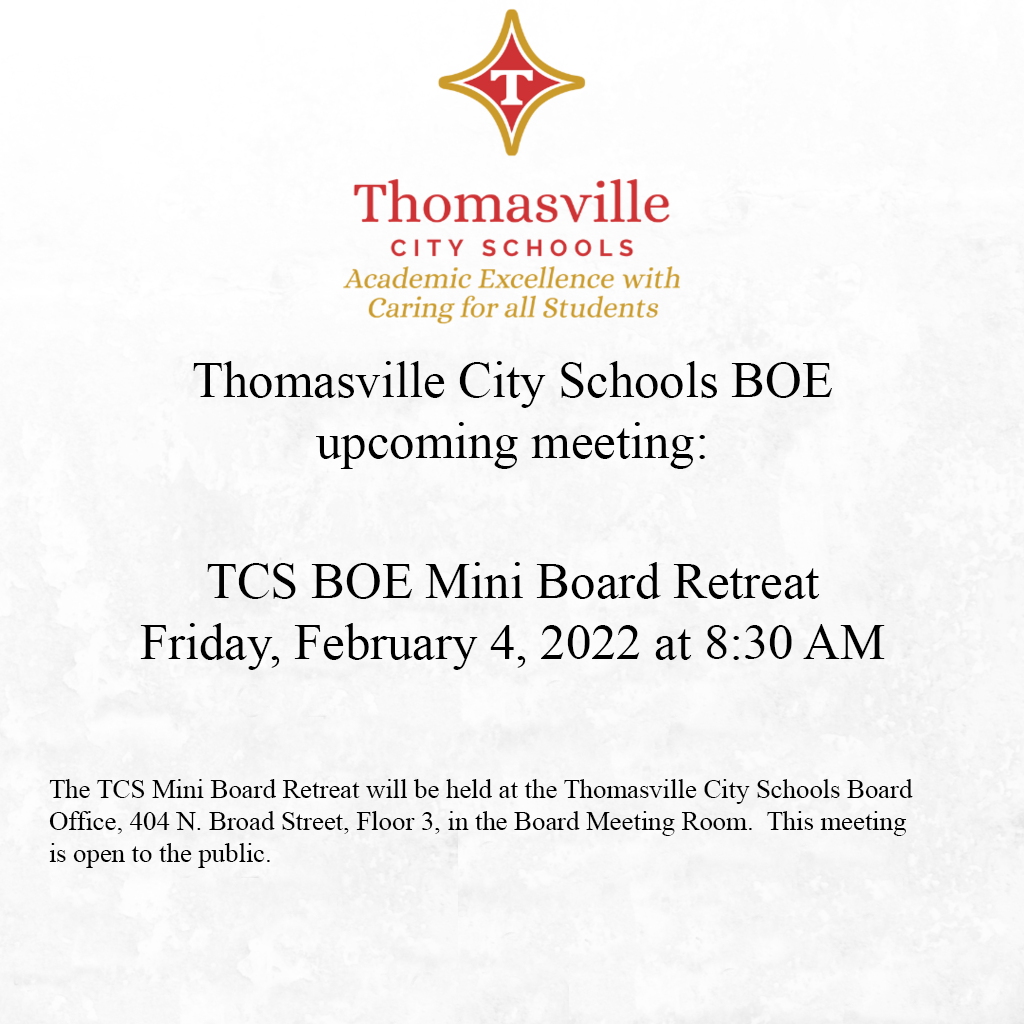 Southwest GA RESA is hosting a virtual job fair on Saturday, March 12, 2022 from 9:00-11:00 am. Teachers who would like to make a career change or anyone with a bachelor's degree who would like to learn about routes to certification/employment at Thomasville City Schools should attend.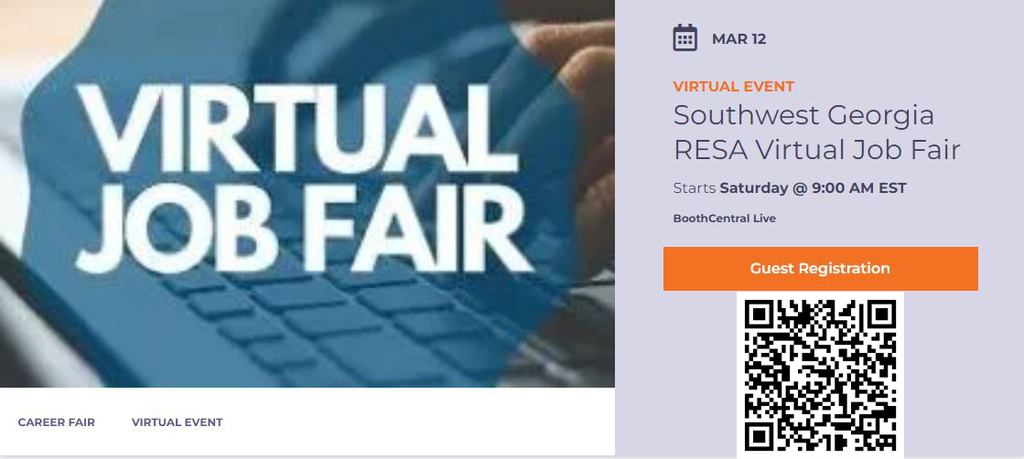 Upcoming BOE Meetings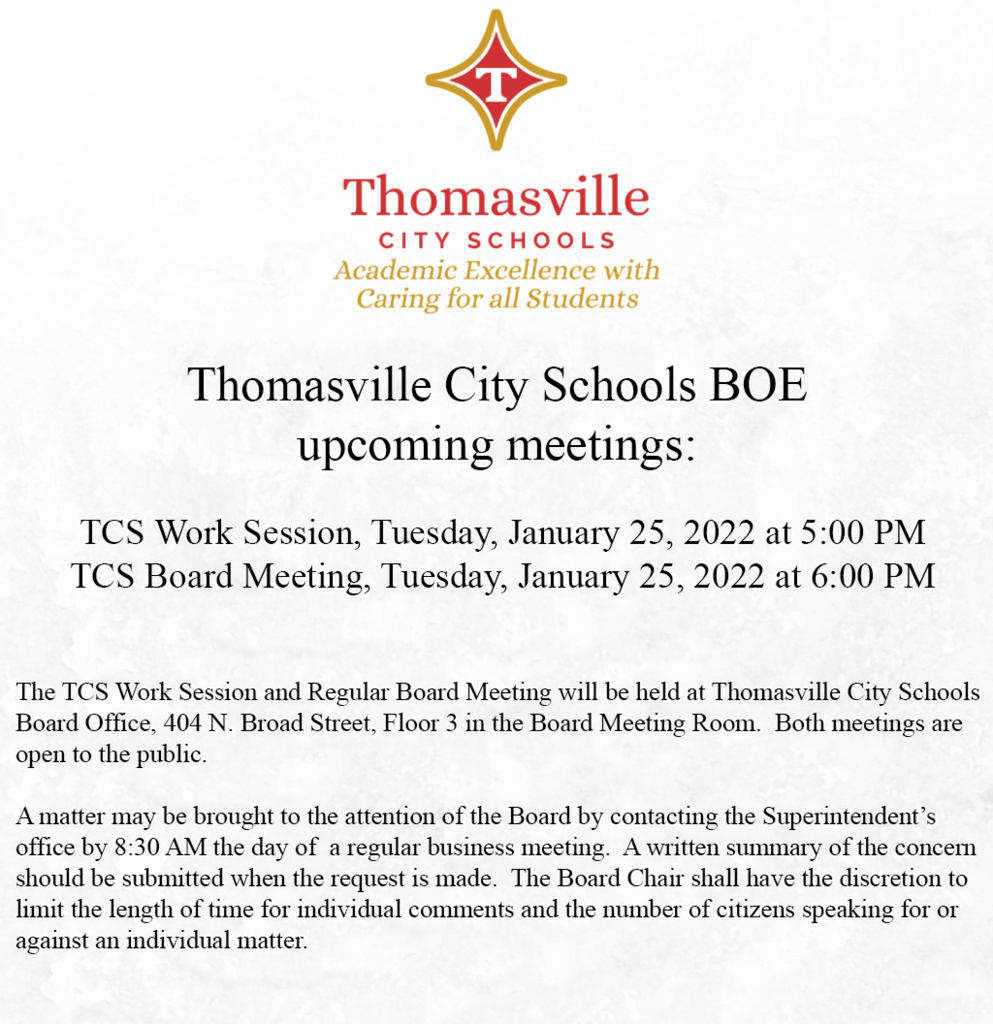 Dear TCS Stakeholders, Based on the local COVID-19 transmission data, TCS will require masks in all buildings beginning January 10, 2022. Schools will provide masks for anyone who is in need. Please read the letter located at
https://5il.co/1411k
from Supt. Bryant for more information.

Please see the attached messge from Dr. Raymond Bryant, Jr. pertaining to the Tik Tok challenge circulating on social media.
https://5il.co/13bmk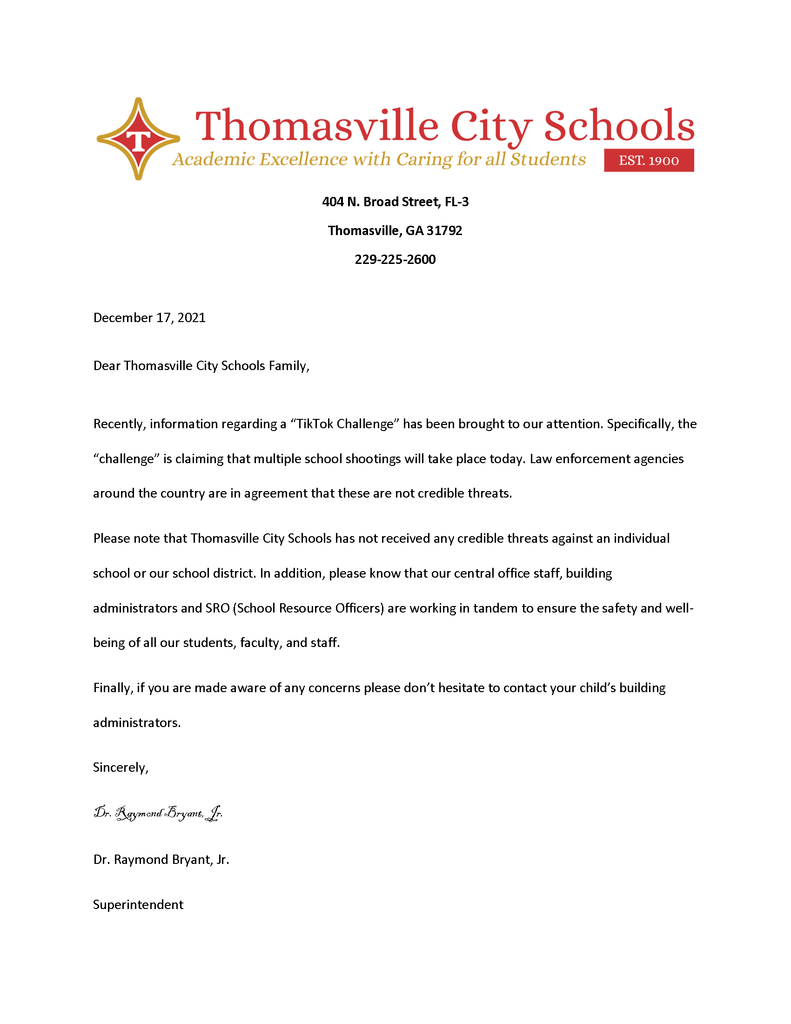 Upcoming BOE Meetings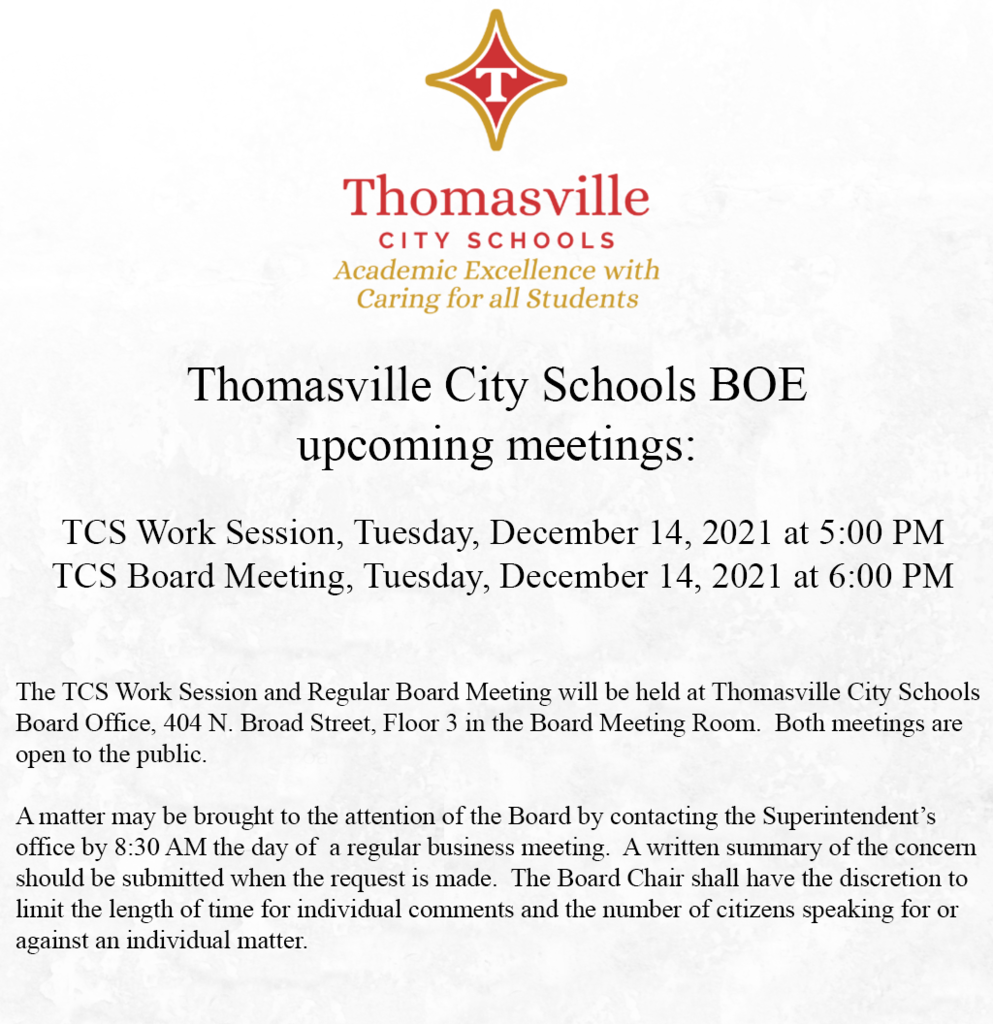 We want to congratulate our beloved Bulldogs on reaching the state championship for the first time since 1993. We are looking to capture our first state championship since 1988. Please click link below for information regarding time and location for car paintings, a map on the community send-off, and finally details regarding the game.
https://5il.co/12uh3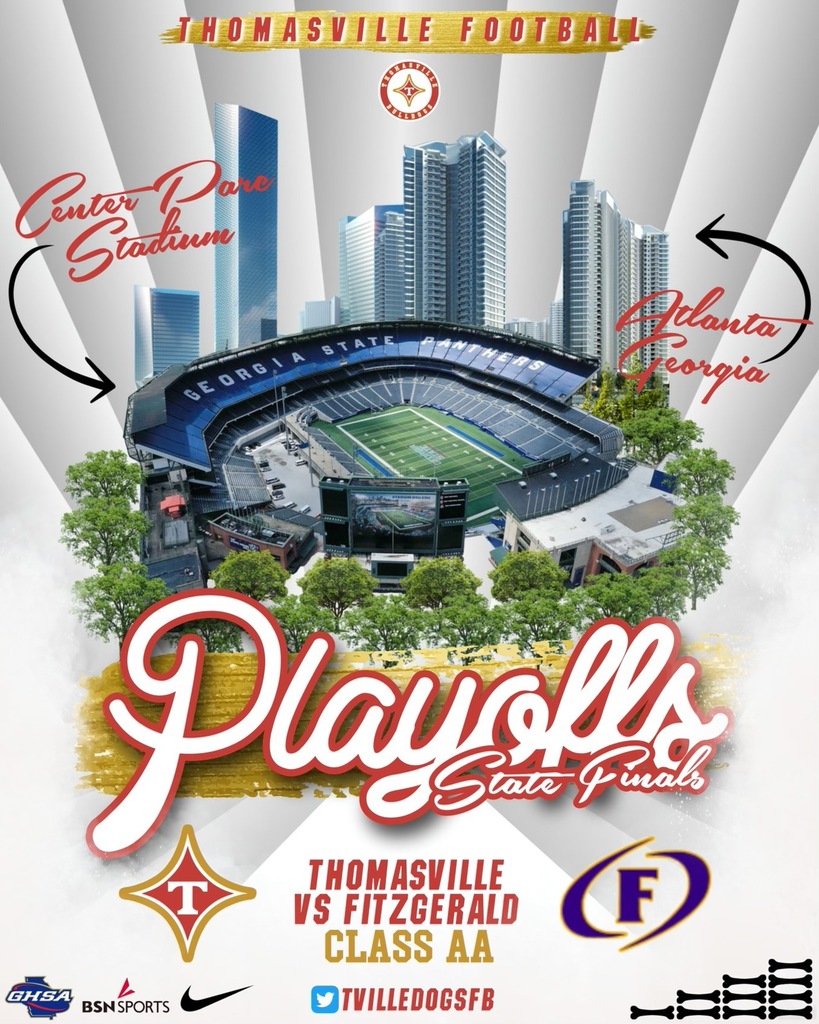 Youth & Young Adults Onine Focus Group - WE ARE LOOKING FOR YOUTH AND YOUNG ADULTS TO TELL US ABOUT YOUR HEALTH CARE EXPERIENCE! Join other youth like yourself as we gather what matters to you most when it comes to health. Bring an open mind, honest feedback and creative ideas to help us create the best messaging and materials for your health. Don't be left out of the conversation! Please click the link for more information.
https://5il.co/12hpi


The REACH (Realizing Educational Achievement Can Happen) Scholarship Program was held this morning at MPMS. The 4 academic scholars will work to successfully complete their requirements through high school including maintaining high academic achievement, good attendance, and behavior. In addition, they will participate in the REACH events, meetings, and programs. Upon completion of high school and meeting the requirements of the REACH program they will be awarded a $10,000 scholarship that can be used at a Georgia HOPE 2 or 4 year college or university! A special thanks goes out to all of our contributors, sponsors, parents, teachers, and administrators for all of your support to bring this opportunity to fruition.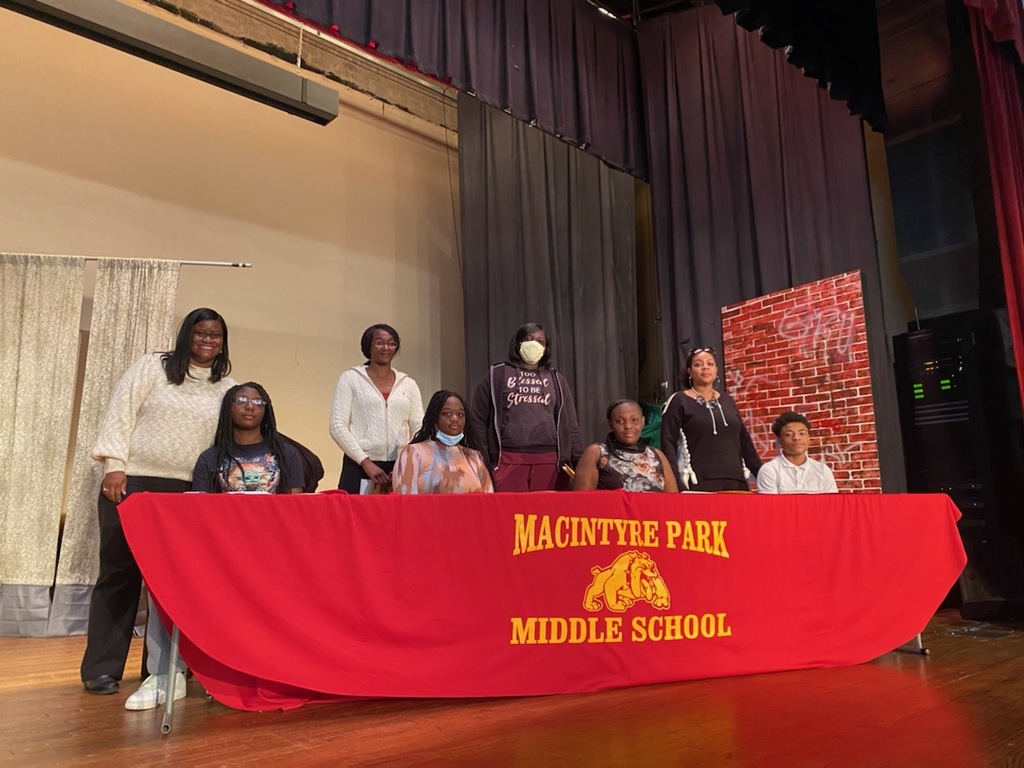 ATTN: Families of Special Needs Students

Upcoming BOE Meetings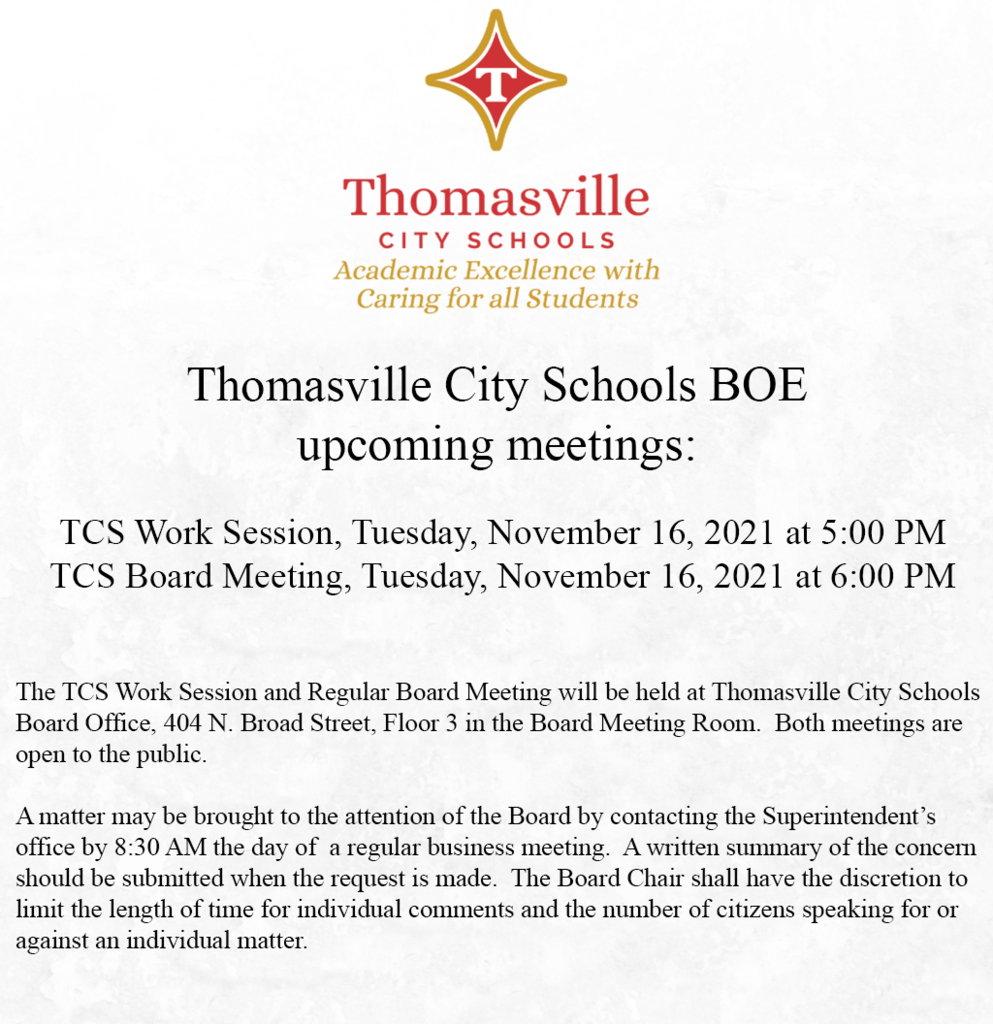 Thank you to all of our veterans who have served our country. Your commitment is forever appreciated.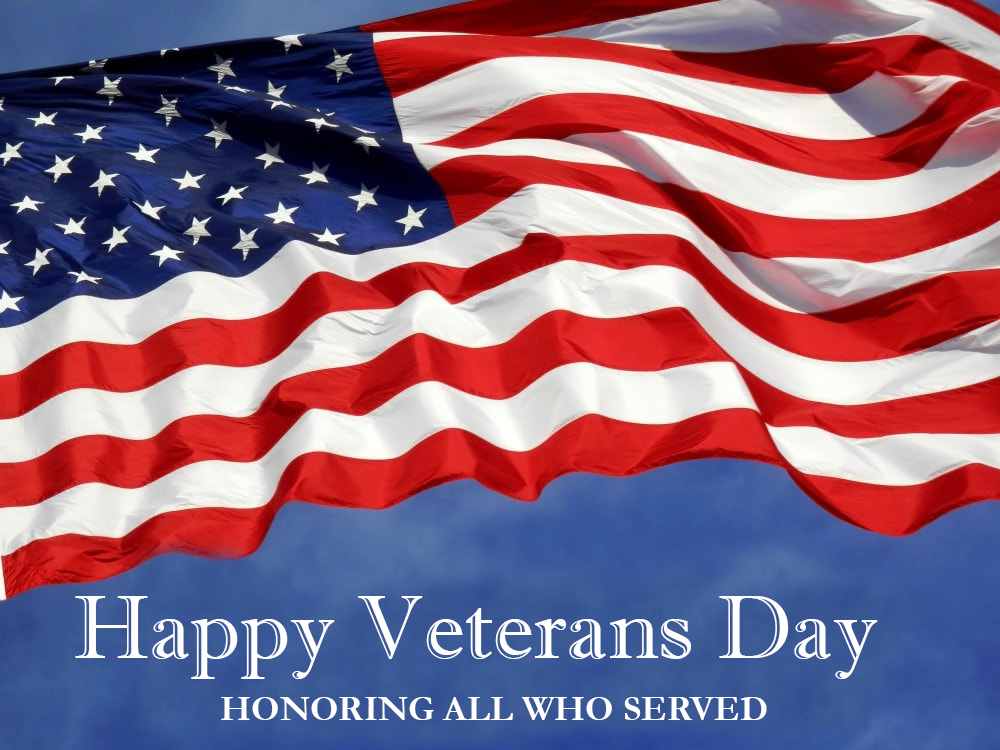 This is a reminder that all tickets for the Bulldogs 1st Round matchup against Washington County are on sale in the THS Dog Pen through Friday(9 AM-2PM). Any unclaimed reserved seats may be purchased starting today for $12. General admission is $8. You may also purchase online through GoFan.
https://gofan.co/app/events/438286?schoolId=GA24306
Also, only GHSA passes will be accepted at the gate. Staff passes will not be allowed entry into GHSA playoff games. Only babies in arms will be admitted without a ticket. Kickoff is set for 8:00 PM Go Dogs!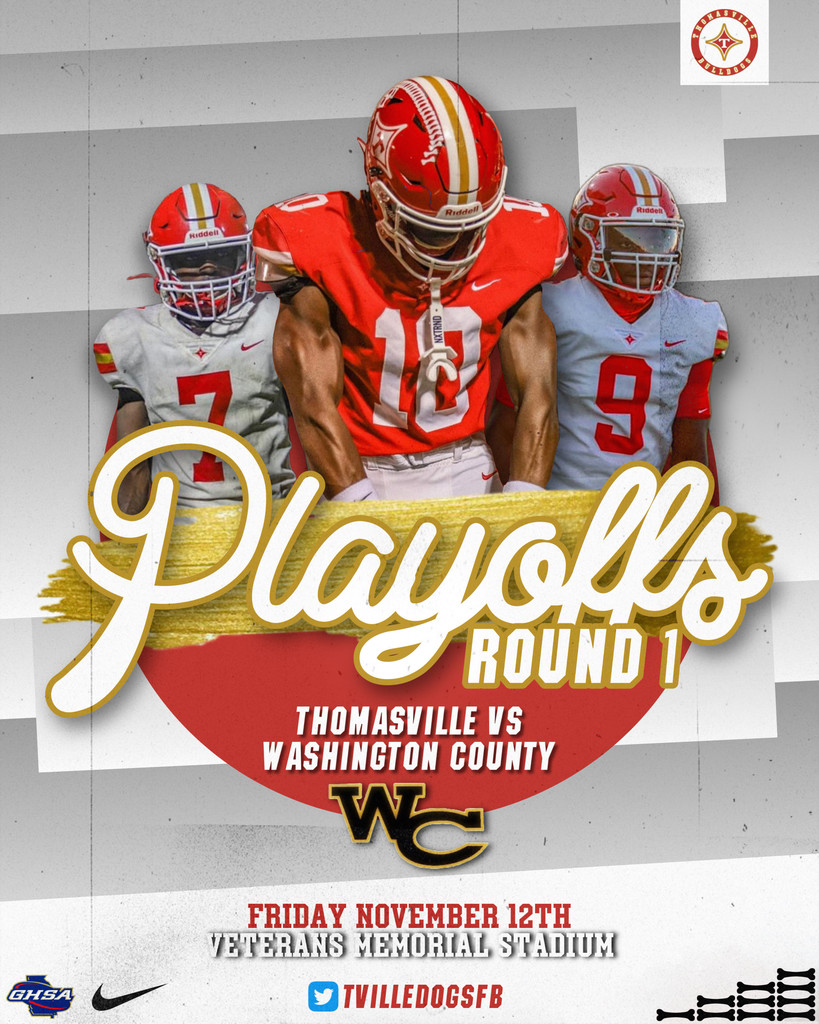 Free, virtual training for families of SWD (ages 12-22) - Please click link for flyer information.
https://5il.co/11gtl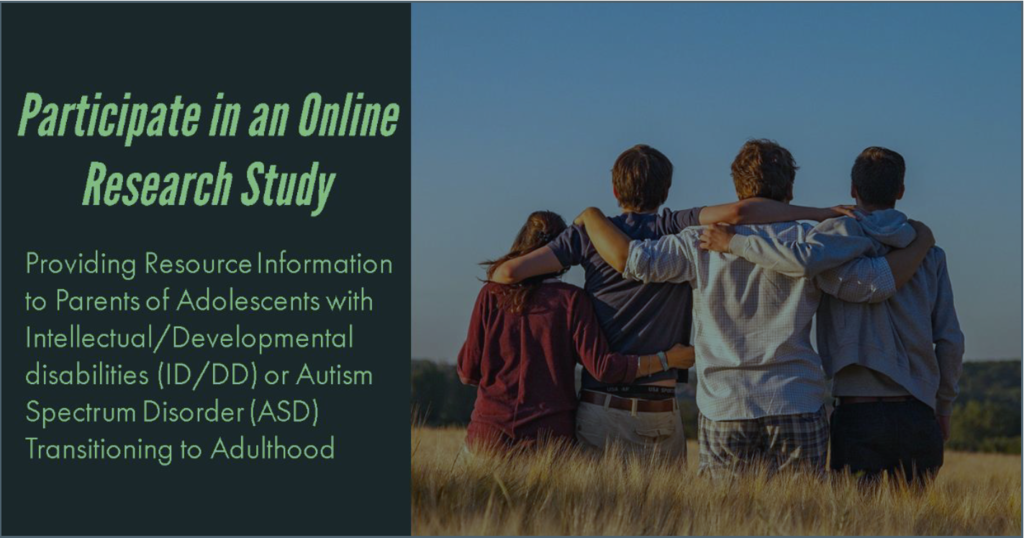 Please see Thomasville City School's updated COVID-19 Communication Plan located at
https://5il.co/11ehs
. Also, this information will be located on our website at tcitys.org.