Upcoming BOE Meetings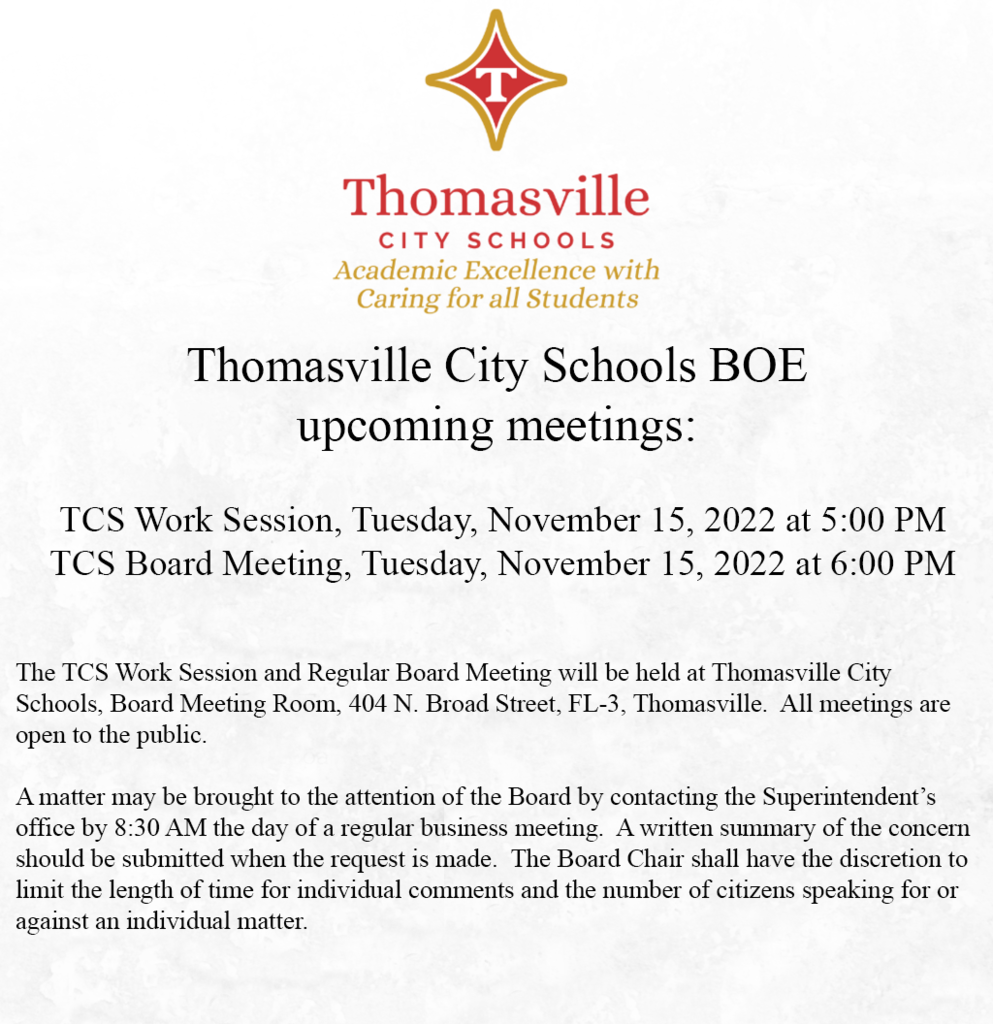 It is Thomasville City Schools expectation that all K-8 students who attend football games are accompanied by an adult or guardian. In addition, TCS expects that students will demonstrate the same code of conduct at football games that they would during school hours (i.e. no running, horseplaying, etc.). TCS expects to have a positive, safe, and enjoyable environment for all patrons, students, student-athletes, etc. As a reminder, attending games at TCS is a privilege. Any behaviors that are contrary to the expectations of TCS will be addressed and appropriate actions will be taken. If you have any questions or concerns, please contact Thomasville City Schools Athletic Director Jeremy Rayburn at
rayburnj@tcitys.org
.

Upcoming BOE Meetings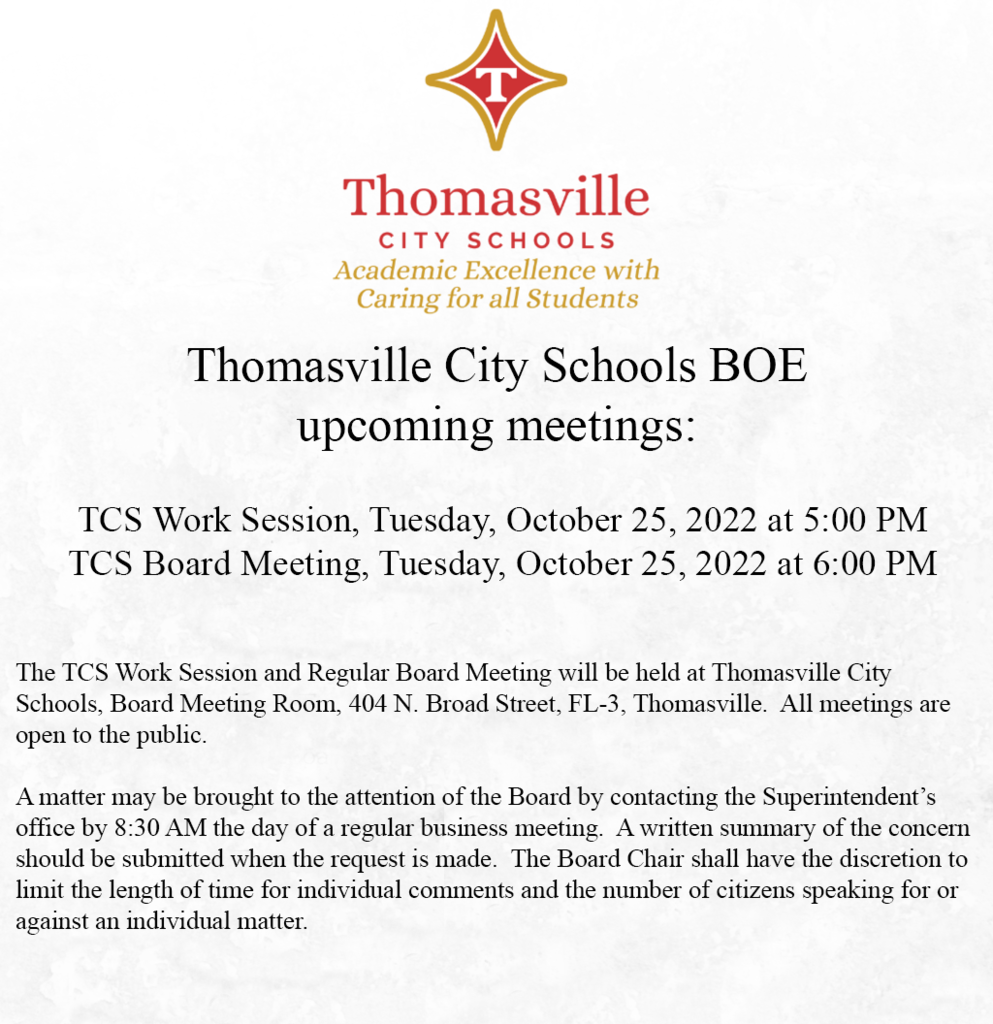 For the safety and security of all of our guests, TCS has a clear bag policy. TCS requests that all guests entering Veterans Memorial Stadium must use a clear bag to bring in any small personal items. TCS thanks you in advance for your cooperation.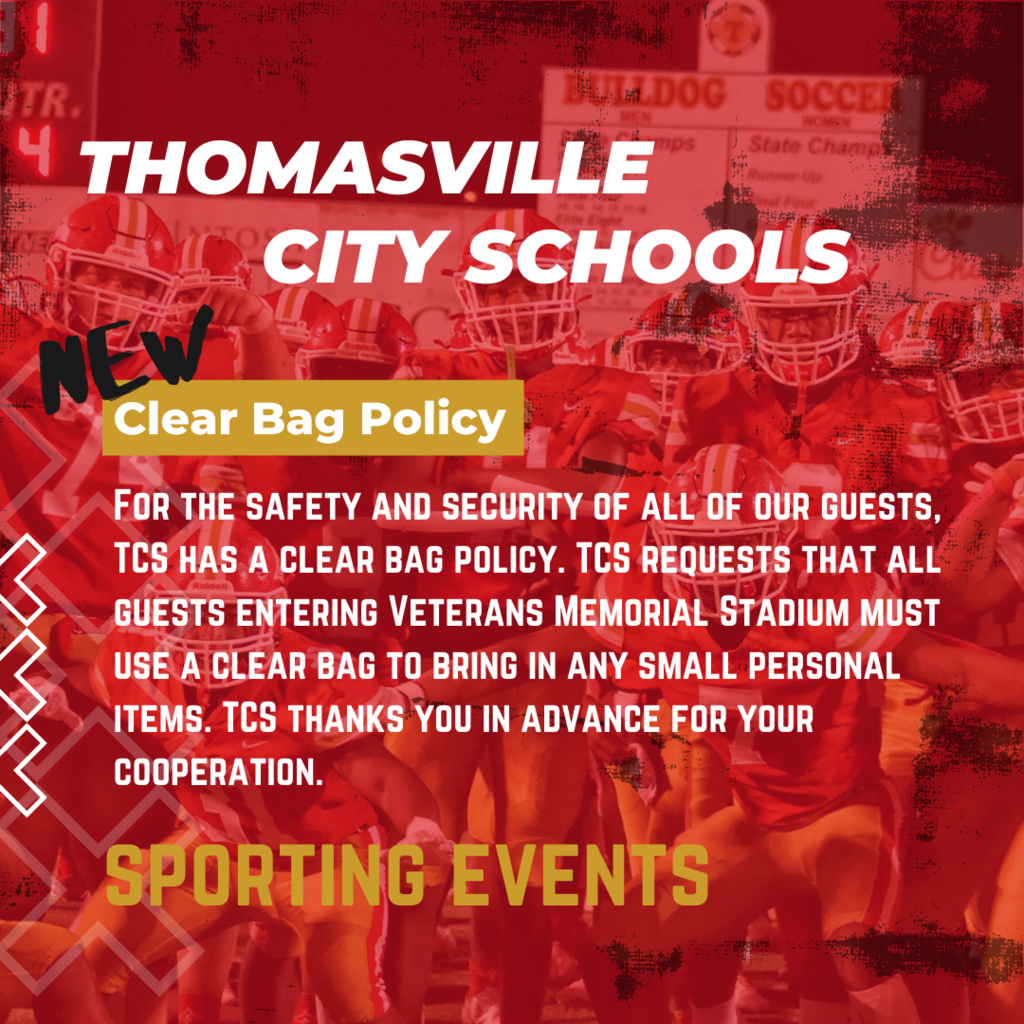 The Thomasville City Schools (hereinafter referred to as TCS) is hereby seeking proposals from construction firms to provide services through the Construction Management at Risk delivery method for the Thomasville City Schools – Thomasville City Schools Board Office Renovation located in Thomasville, GA which includes a renovation of 4 office spaces, additions to include installing HVAC systems. The RFP can be view at
https://www.tcitys.org/page/requests-for-bidsproposals

Upcoming BOE Meetings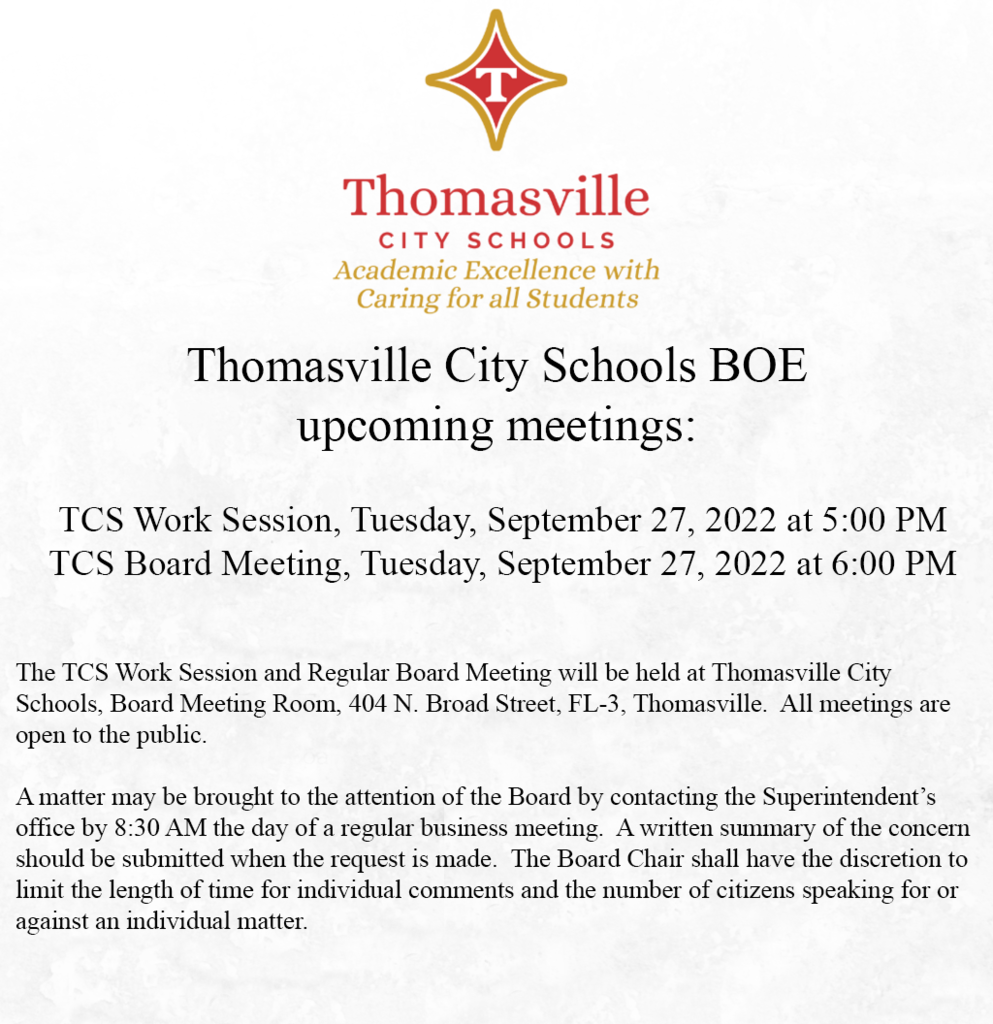 Upcoming BOE Meetings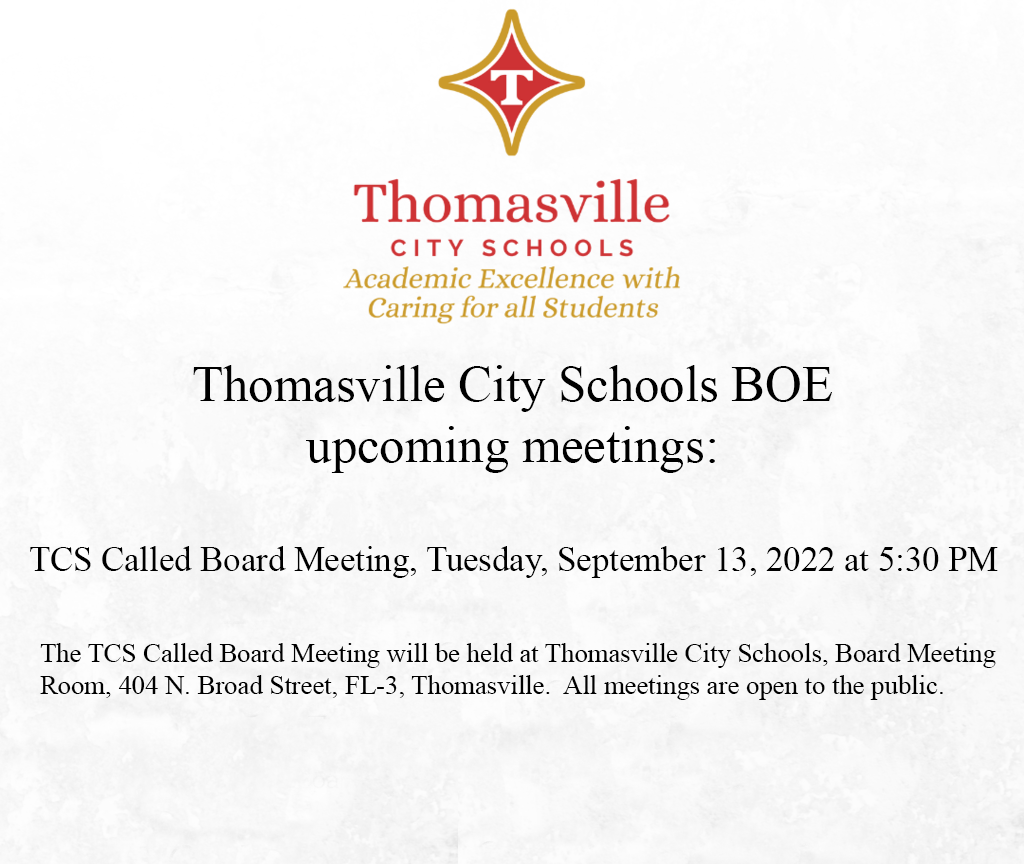 Upcoming BOE Meetings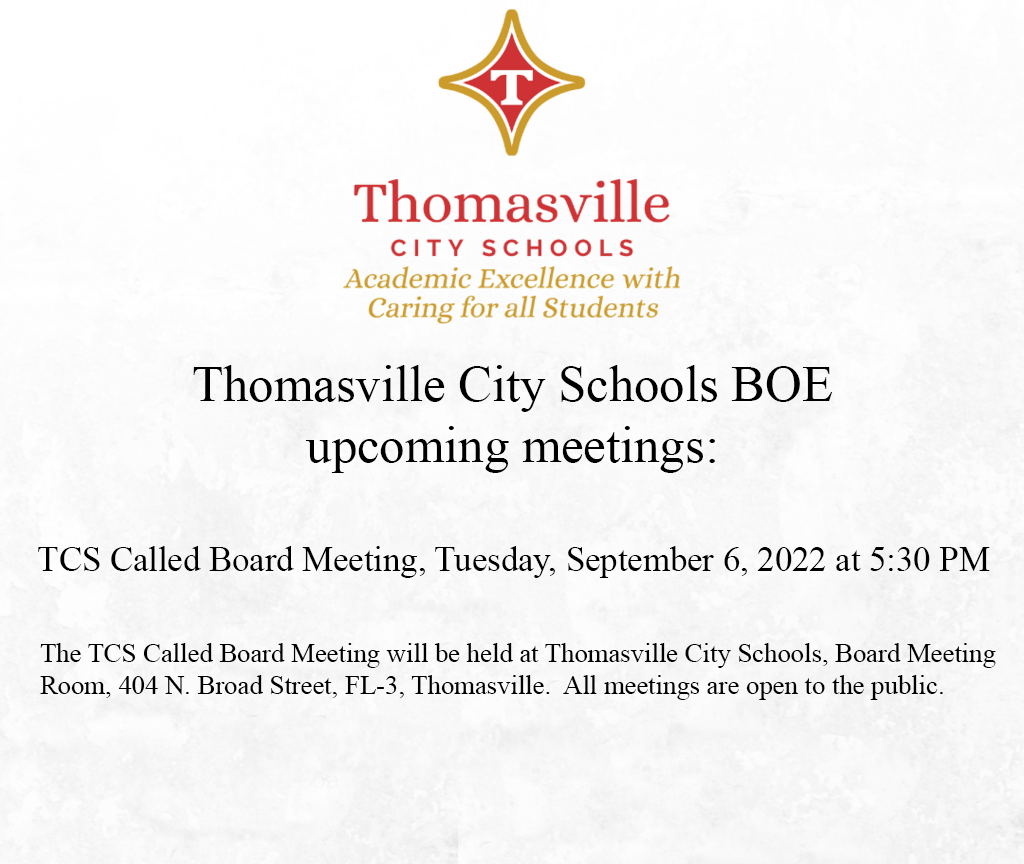 Thomasville City Schools will host our Annual Title I Parent Meetings this week. Please join us as we share how federal funding supports our Title I schools to help our students. If you can not join us, please feel free to view this vital information on your child's school's website or the links below. After viewing the information, please take a moment to complete a short survey. Please click the link to view the presentation.
https://5il.co/1grlw
The survey can be found here.
https://forms.gle/c7A1qmKiiqo3wJFA6
. We look forward to seeing you at one of our meetings. Harper Elementary School August 25th @ 6:00 pm, Thomasville High School August 30th @ 6:00 pm, Scott Elementary School September 1st @ 6:00 pm, MacIntyre Park Middle School September 8th @ 6:00 pm

Upcoming BOE Meetings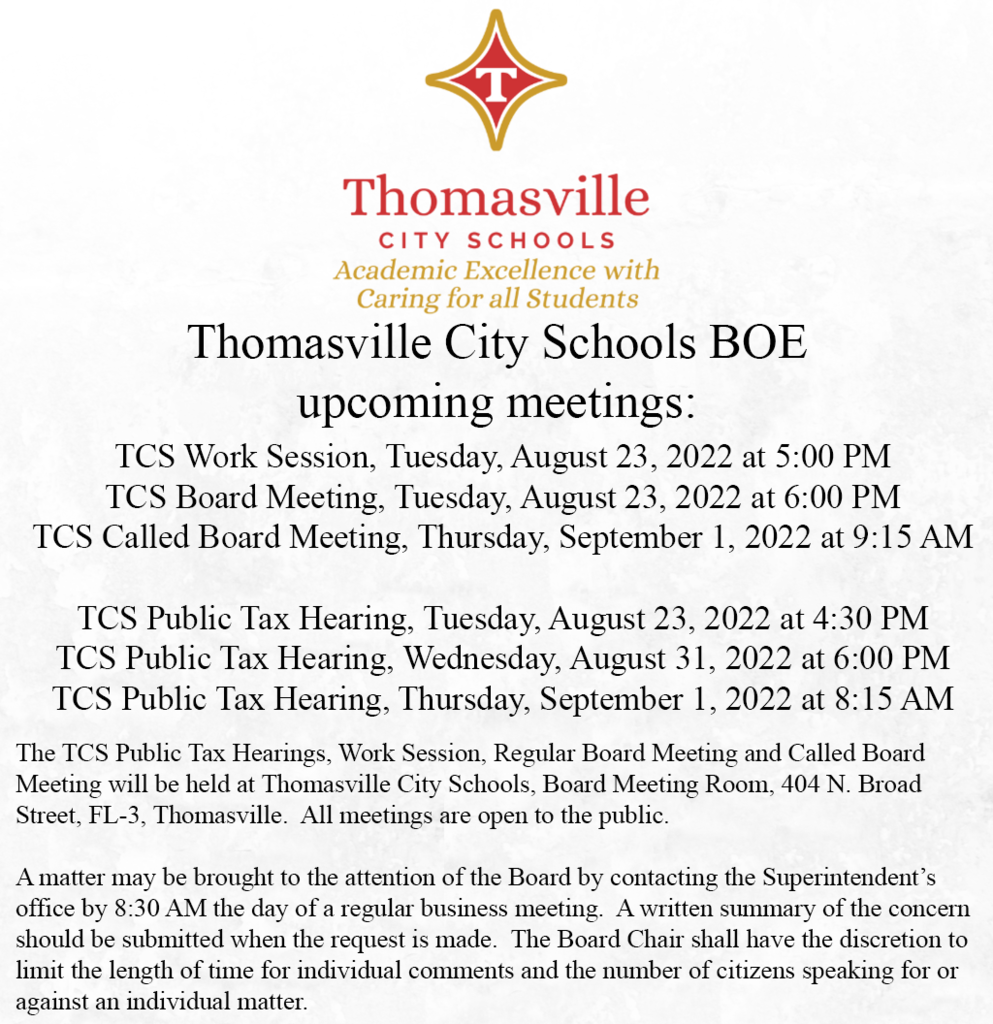 Online Focus Group For Parents & Guardians on Transitioning to Adult Health Care - Join in on the conversation with other parents/guardians to talk about how to best support your adolescent and what matters to you most as they move from pediatric to adult health care. Don't be left out of the conversation! Please click the link for more information.
https://5il.co/1fyzz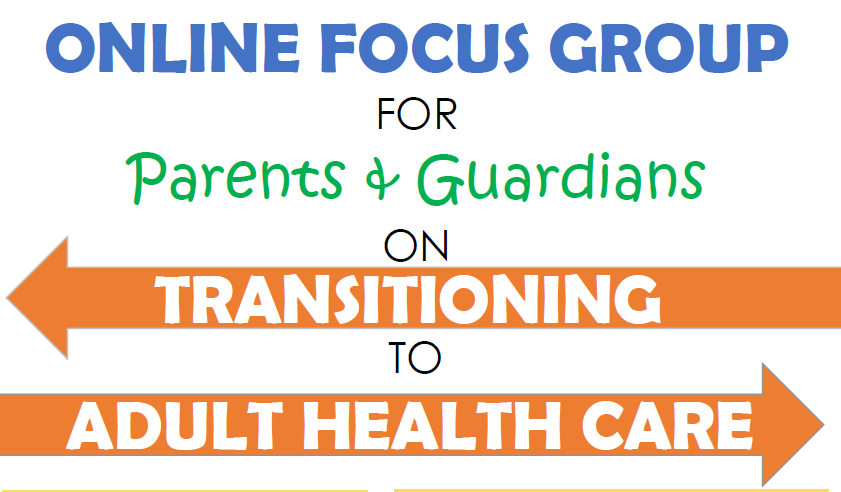 JERGER ELEMENTARY - During the first week of school, all students will be given a 2022-2023 Family Meal Application to take home to their parents/guardians. Free and reduced meals are available to students based on the completed household application. Applications for the new school year should be completed and returned to the school as soon as possible. Students who received meal assistance the school 2020-2021 year will continue on the same meal status for the first two weeks of school. After the new application is returned and processed, parents/guardians will be notified in writing of the children's new status. Students who do not return the Family Meal Application within the first 30 days of the new school year will have to pay full price for meals. Meal Prices for Students (one meal only): • Regular prices:​Breakfast $1.00​Lunch $2.00 • Reduced prices:​Breakfast $.30​Lunch $.40

Upcoming BOE Public Tax Hearings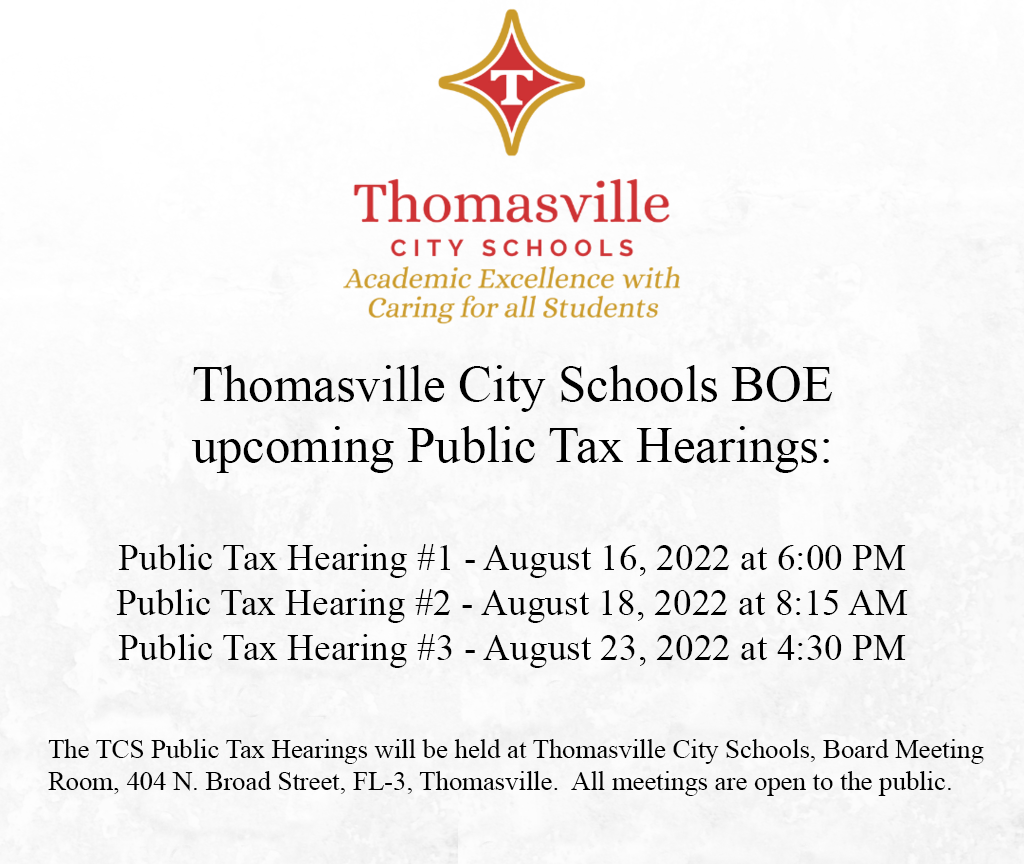 Upcoming BOE Meetings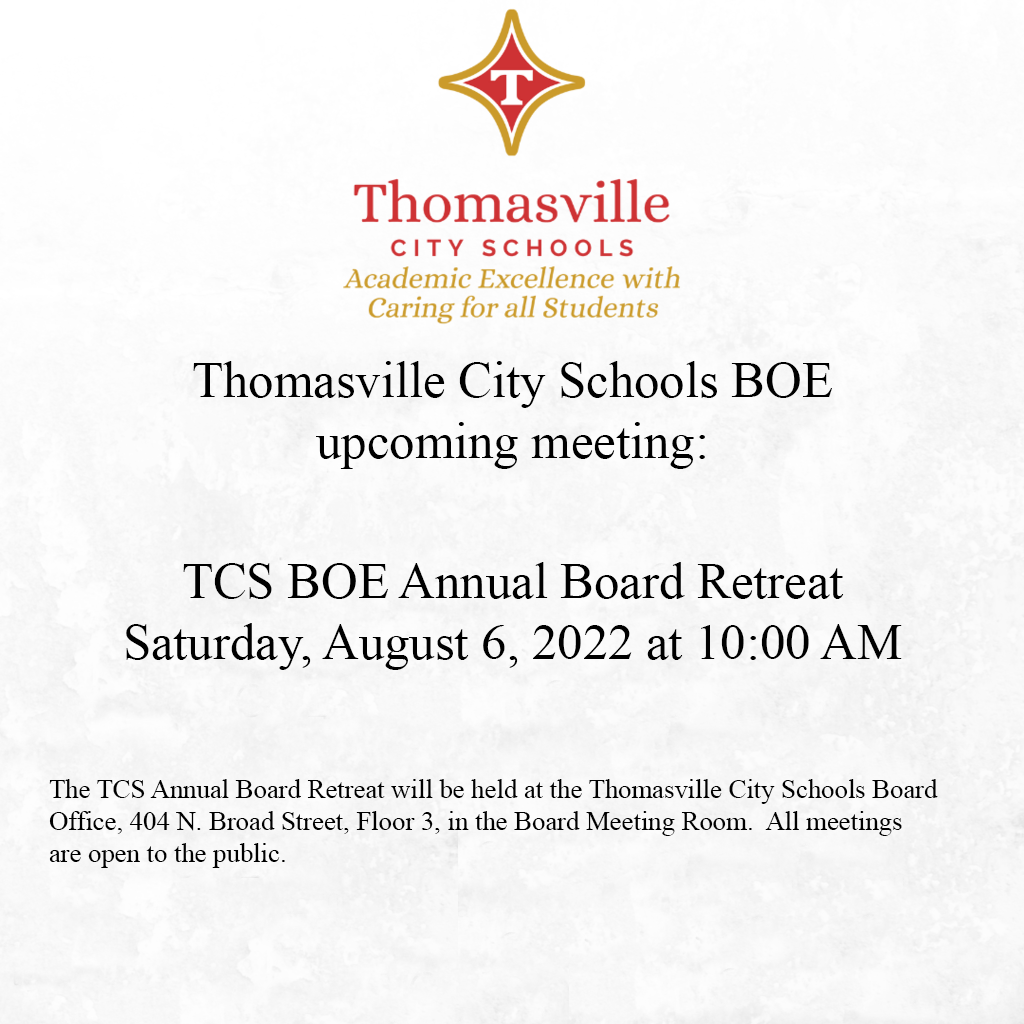 Upcoming BOE Meetings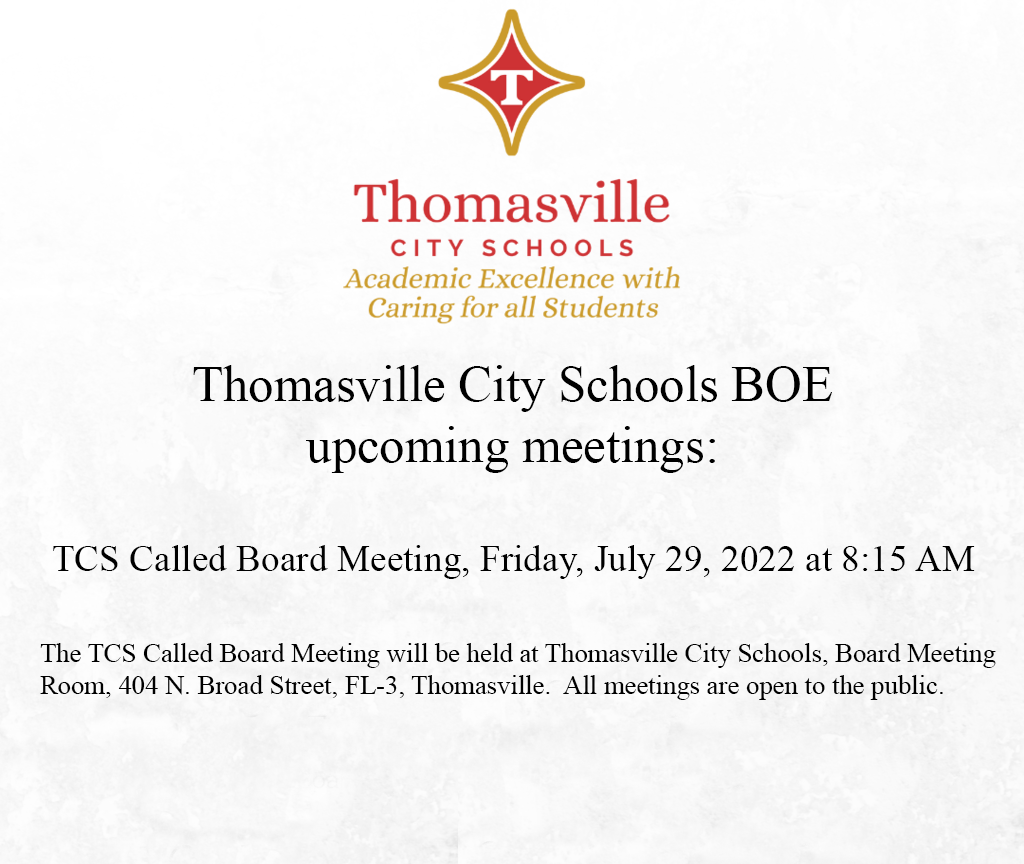 Upcoming BOE Meetings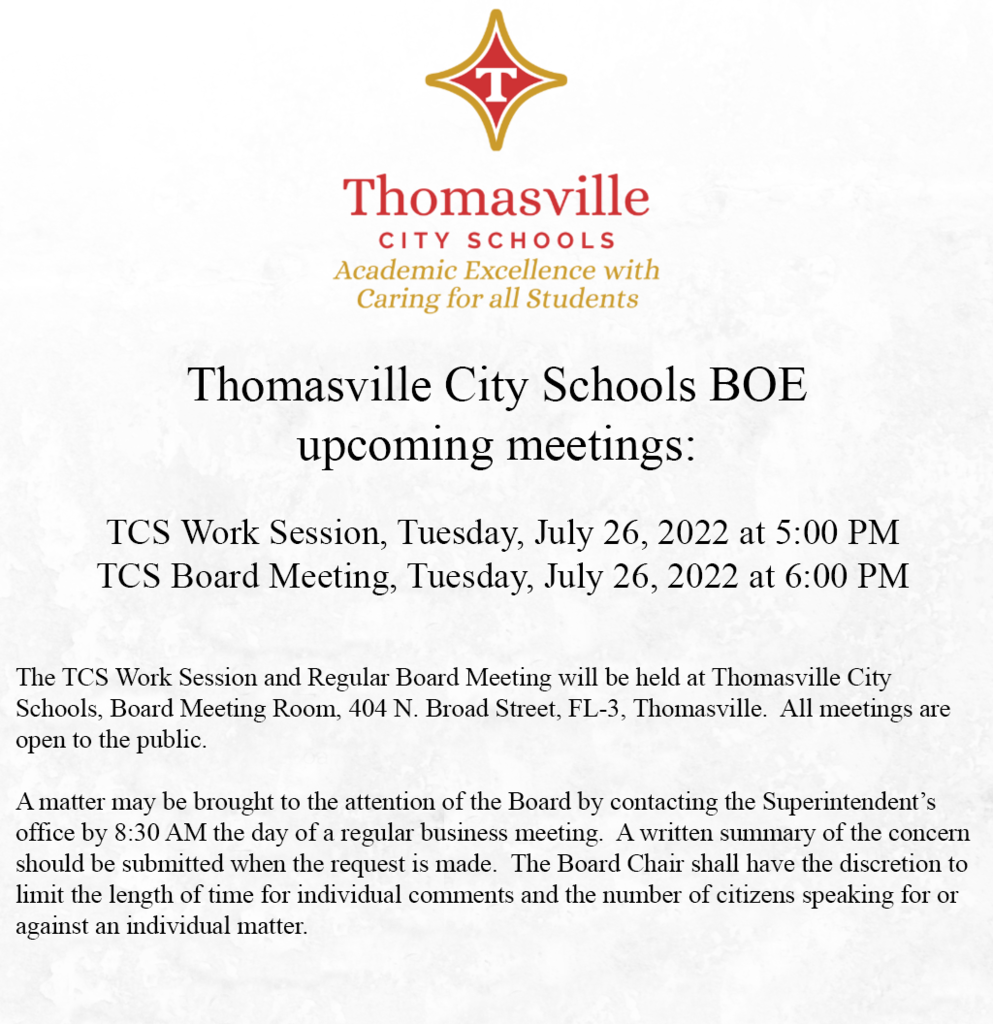 Upcoming BOE Meetings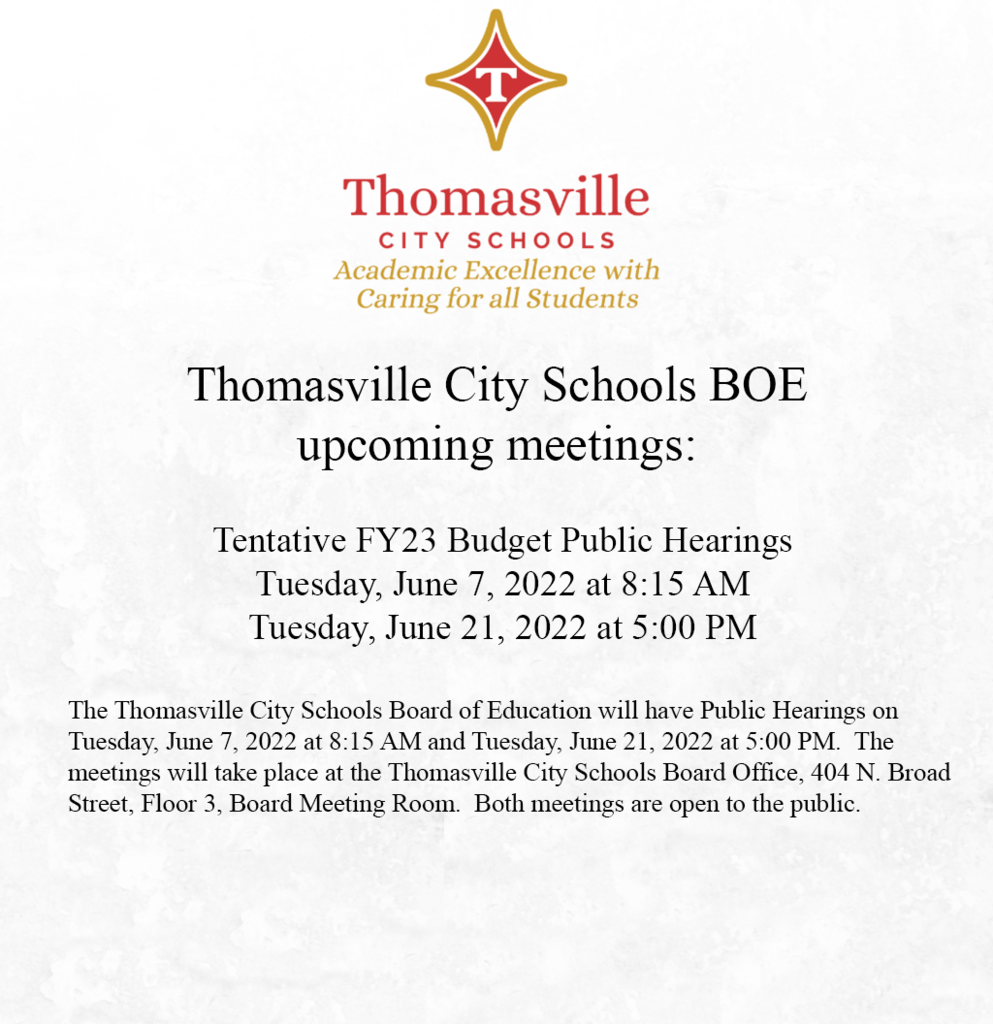 Upcoming BOE Meetings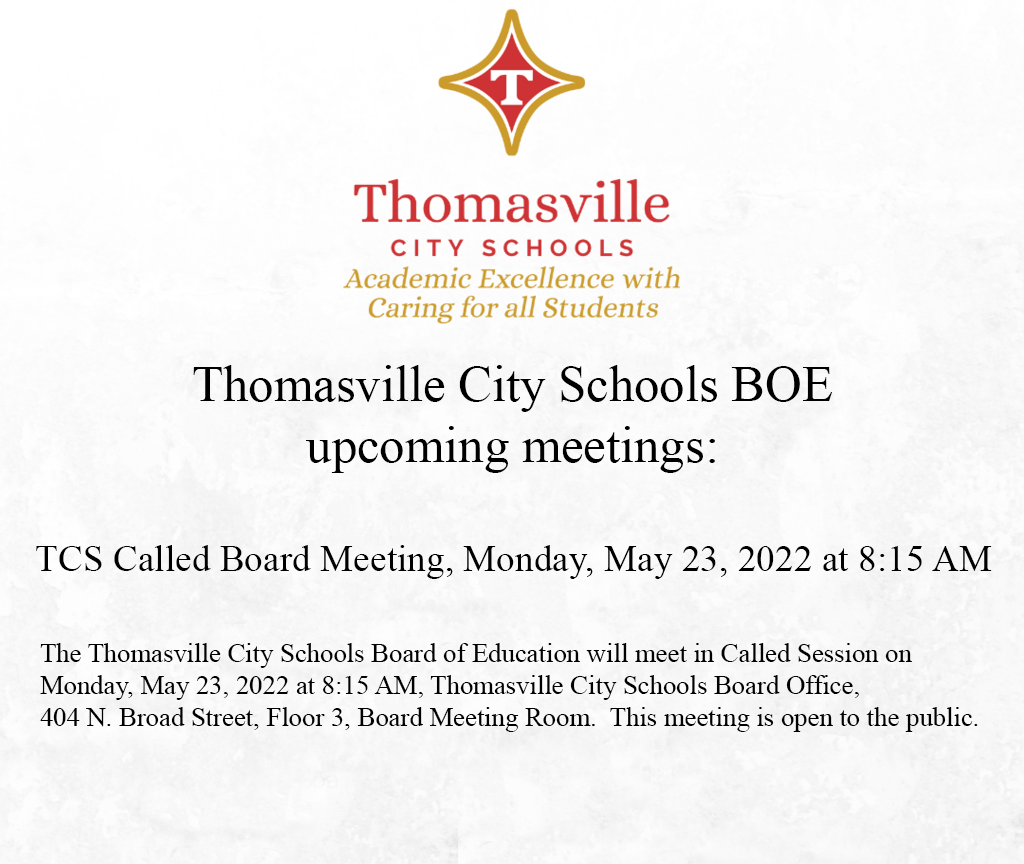 Upcoming BOE Meetings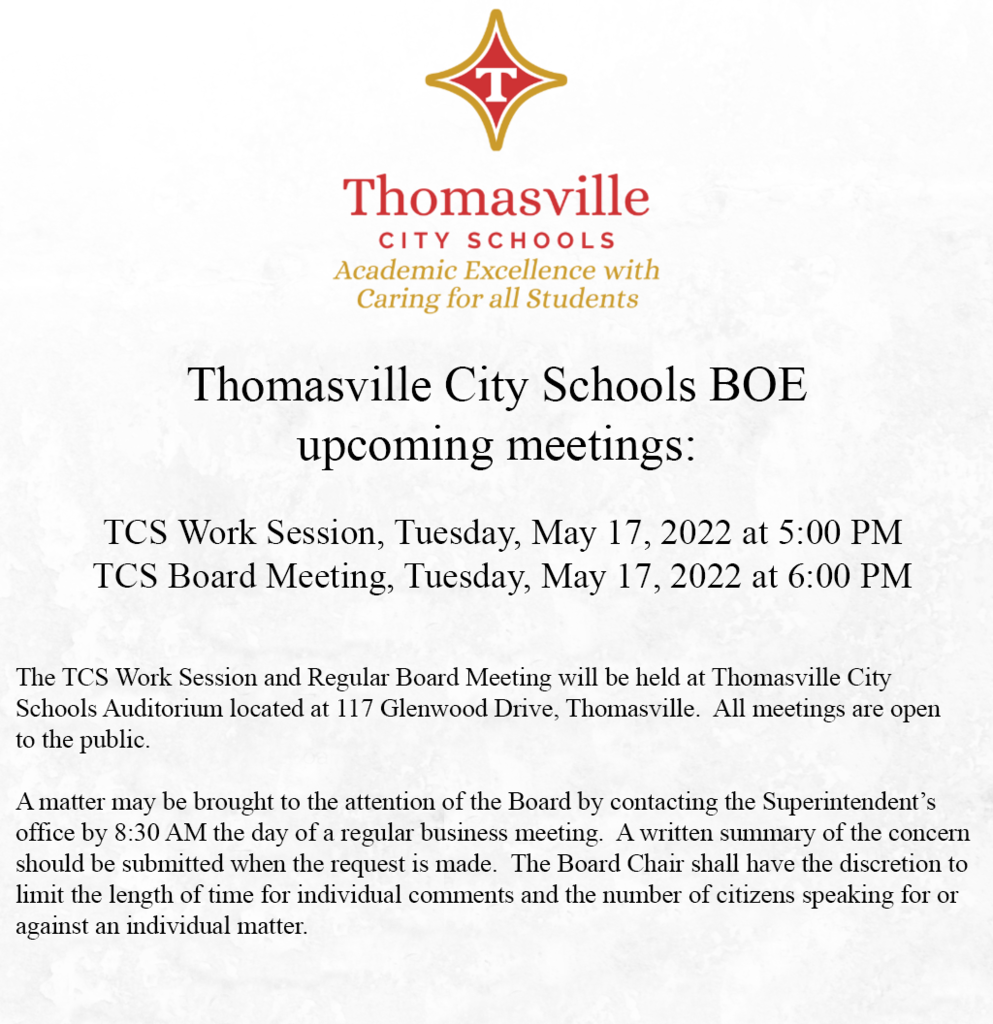 Upcoming BOE Meetings