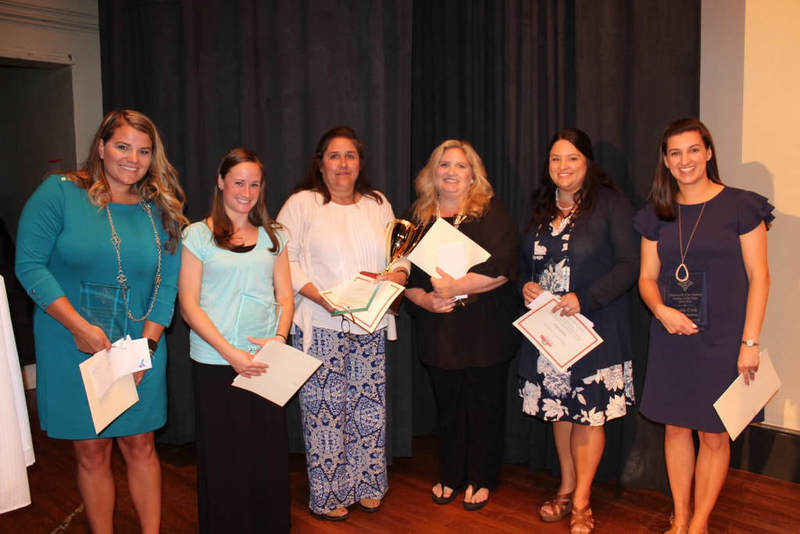 Thomasville City Schools Teachers of the Year: Anne Myers, Kristen Strasser, Barbara Grave de Peralta, Casey Dyksterhouse, Jennifer Shiver, and Cassidy Cook.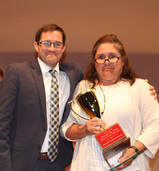 Acting Superintendent Daniel Oldham presented Barbara Peralta with the title of 2019-2020 Thomasville City Schools Teacher of the Year.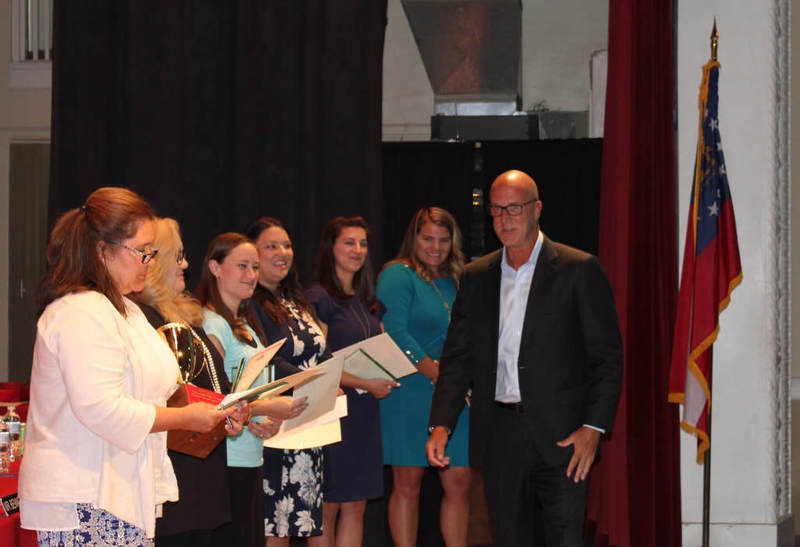 Scott Sterling of Big Oak Advisors distributed awards to the teachers and shared the audience his inspiration for wanting to help honor teachers in the district.

Thomasville City Schools named Barbara Grave de Peralta its 2019-2020 Teacher of the Year at the May Board Meeting and recognized the Teachers of the Year from each school in the district.
Big Oak Advisors sponsors the Teacher of the Year program for district. Scott Sterling presented each honoree with plaques and a $400 monetary award for the school levels and a trophy and a $600 monetary award for the district level. Additional business supporters awarded the teachers: Thomasville YMCA will provide three months free membership for each school level teacher and one year free membership to the district level and Papa John's Pizza will provide one free pizza each month for the entire year to each of the teachers.
As the Thomasville City Schools Teacher of the Year, Peralta will be able to drive a Jeep Wrangler graciously provided by Stallings Motor Company during the months of August through December. The keys will be presented to Peralta on August 2, 2019, at a back to school assembly. Peralta will also receive a "Teacher of the Year" ring, courtesy of Josten's.
Peralta is a Registered Nurse and has taught healthcare science at Thomasville High School for 13 years. Additionally, Peralta has been the Health Occupations Students of America advisor for 12 years. During that time, she has served as the Past Chair of the HOSA Board of Directors and was selected as HOSA Advisor of the Year in 2018. Peralta's primary focus for her students is to nurture their academic and lifelong success. She believes there is no better feeling than when former students keep in touch to say, "Thank you for the encouragement." That is what teaching is all about: the success of students following their dreams.
Casey Dyksterhouse is the Scholars Academy Teacher of the Year. Dyksterhouse has worked with the Thomasville City Schools Drama Program since 2011. She has directed many large drama productions over the years and led region and state champions in GHSA One Act Competitions. Her first priority as a teacher is to establish a trusting relationship with her students; only then can the real work of teaching begin. Dyksterhouse wants to empower her students with the skills and tools to ask questions, search, explore, and find their own way of working, in order to discover more about themselves and humanity. She is an exceptionally skilled drama teacher who naturally has the compassion and relational skills to make others feel valued and important.
Kristen Strausser is the MacIntyre Park Middle School Teacher of the Year. Strausser has been teaching for 10 years and loves teaching language arts to help kids grow and learn to love reading and writing. She considers all of her students to be amazing, academically and personally, and holds high expectations for each of them. She believes it is her job to inspire her students to succeed and works diligently to help them meet their learning goals. Her hope is to have a positive impact on her students academically and help them become well-rounded individuals.
Anne Myers is the Harper Elementary Teacher of the Year. Myers is a special education teacher who is innovative and has a passion for students. During her 3.5 year career Myers has been an advocate for special needs students. She recently wrote a grant to provide biking, exercising, and new playground equipment for Harper students. Myers represents the personal and professional attributes that is representative of all Harper teachers. She has gone above and beyond her responsibilities as a classroom teacher and has positively impacted the people around her.
Cassidy Cook is the Jerger Elementary Teacher of the Year. Cook joined the Thomasville City School System in 2010 and is a 2nd grade teacher at Jerger Elementary. She finds ways to engage and challenge her students in their learning and in her classroom community. Supporting individual students, as well as teaching students to support and encourage each other, has become a priority for her over the years. Cook is a leader among her peers and has a cheerful personality and knack for organization. She has gracefully managed traumatic challenges by setting an example of her strong faith for her students and their parents.
Jennifer Shiver is the Scott Elementary Teacher of the Year. Shiver has been a 4th grade reading and science teacher at Scott Elementary for 5 years and is finishing her 10th year as an educator. She is passionate about instilling a love for reading in her students and strongly believes that literacy is the foundation for all learning. Shiver finds her inspiration through working with other teachers and constantly challenging herself to find new ways of reaching diverse groups of learners. She wants each of her students to experience the satisfaction of learning, even if the process of learning is sometimes tough. Shiver says there is nothing better than seeing a child proud of him or herself after learning takes place.