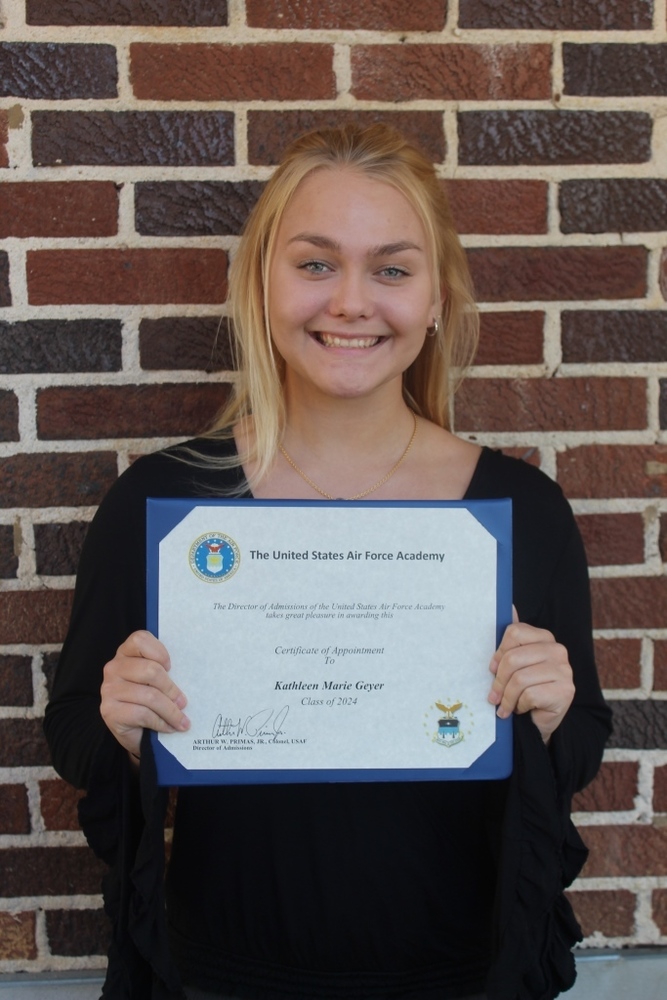 Geyer Receives Appointment to U.S. Air Force Academy
Desiree Celaya
Tuesday, January 28, 2020
(Above) Kathleen Geyer proudly displays her United States Air Force Academy Certificate of Appointment. Geyer will graduate with Thomasville High School and Scholars Academy's Class of 2020 on May 22, 2020.

Thomasville City Schools is pleased to announce Class of 2020 Thomasville High School and Scholars Academy senior Kathleen Geyer's appointment to the United States Air Force Academy as a member of the Class of 2024. Geyer joins a select group of the nation's finest young people as she takes a challenging and rewarding step toward becoming a professional Air Force officer.
Geyer was shocked and surprised when she received the direct nomination to her first choice in service academies from Congressman Austin Scott.
"It was the academy that I most wanted to get into, but it was also the one that I most feared I might not get into," said Geyer.
Each member of Congress is only allowed to have a maximum of five cadets attending the Academy at one time. For each cadet vacancy that occurs, the member may nominate up to 10 candidates to be considered for appointment. Vacancies occur when cadets graduate or leave prior to graduation.
Geyer has earned a rare opportunity to participate in one of the country's finest officer training programs. Her appointment is awarded to only about 1,200 of the 9,700 applicants. Geyer's previous accomplishments indicate that she has the potential to meet the demands and challenges of the Academy.
United States Air Force Academy Director of Admissions Colonel Arthur W. Primas, Jr. said in Geyer's appointment letter, "I compliment you on a tremendous record of personal achievement and look forward to welcoming you to the Cadet Wing on June 25, 2020."