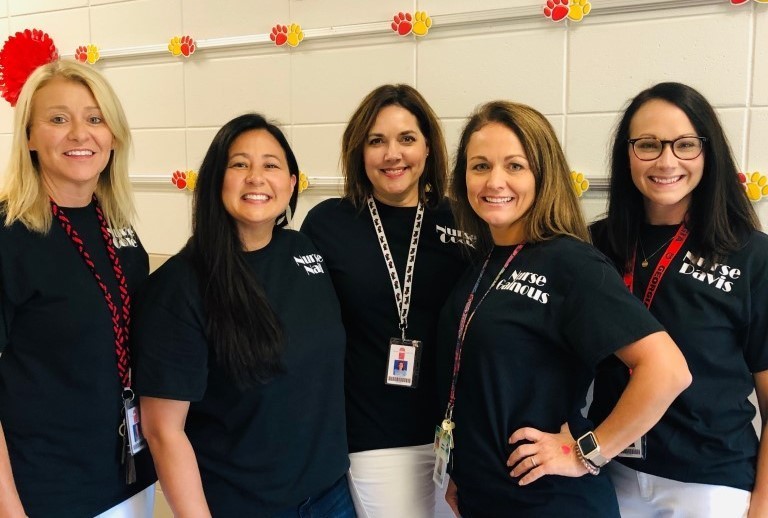 Meet the City Schools' Nurses!
Desiree Celaya
Wednesday, October 30, 2019
As parents send their children off to school each morning to the care and supervision of teachers and administrators, another importance force is working diligently to protect and nurture the students of Thomasville City Schools: the nurses.
Registered Nurses are present at five school sites to meet the needs of students at Harper Elementary, Jerger Elementary, Scott Elementary, MacIntyre Park Middle School & Scholars Academy, and Thomasville High School.
Courtney Davis, Harper Elementary's nurse for 2 years, was born and raised in Thomasville and became a Registered Nurse in 2009. She began her career as an obstetrical nurse at Archbold Memorial as a mother/baby and labor and delivery nurse. Davis has been married to her husband Lee for 13 years and they have three children, all girls, ages 12, 9, and 5. Davis is also a sexual assault nurse examiner for The Treehouse in Thomasville.
Sasha Gainous, Jerger Elementary's nurse for 4 years, graduated from Wallace College in Dothan, Alabama and has been a Registered Nurse for 20 years. Before coming to Jerger, she worked at Archbold Memorial Hospital in labor and delivery for 17 years. Gainous and her husband Stephen have 3 children: Madeline and MaKenna at Scholars and Drew at Jerger.
Robin Cook, Scott Elementary's nurse for 14 years, got her nursing degree from Darton College and has been a Registered Nurse for 20 years including experience in Critical Care nursing for most of her career. She continues to work PRN (as needed) as a Cardiac Rehab Nurse at Archbold Medical Center. Cook and her husband Coy have three children Bryant, Morgan, and Will.
Latrelle Cone, MPMS and Scholars Academy's nurse for 11 years, got her nursing degree from Darton College and worked at Archbold for 15 years in labor and delivery. This was all after her "first life" where she obtained a Master's Degree in Education from Valdosta State University, taught kindergarten at Busy Bear, and stayed home with her young boys. Cone and her husband David have been married for 34 years and have 5 boys (3 who graduated from THS), 3 girls, 2 granddaughters, and 1 grandson. She loves the Atlanta Braves and everything UGA!
Jennifer Nail, Thomasville High School's nurse for 3 years, was born and raised in Tampa, Florida and swears that she has salt water in her veins! She loves sunshine and the ocean. Nail and her husband Wayne have been married for 18 years and are currently in the process of growing their family through adoption. Prior to going to nursing school and labor and delivery nursing, Nail worked in the mortgage and banking industry.
The nurses at all five school sites were drawn to school nursing for various reasons.
"The schedule of being off with my children was definitely an attraction to the job. I have always loved pediatrics, so this was a great fit for me and my family," said Cook.
"Growing up, I dreamed of being either a teacher or a nurse, so this is the best of both worlds!" said Nail.
"As much as I loved labor and delivery and the people I worked with, being on the same schedule as the kids just seemed to make sense. It also gives me the opportunity to attend all of the various activities in which they are involved," said Gainous.
"I was drawn to school nursing for several reasons. One of which was being able to love on the children and influence them directly with nursing care and hugs! I also love working hand-in-hand with other like-minded coworkers," said Davis.
Cone simply said, "I love kids!"
All five of the nurses acknowledge the differences between the independence and autonomy of a school clinic compared to being surrounded by a medically-trained staff at a hospital or doctor's office.
Cone must prepare herself for quick thinking when she might be managing several diabetic students on her own.
"Of course parents and doctors are only a phone call away, but sometimes you don't have that minute," said Cone.
Cook values her leadership position to oversee health policies and programs of the school and points out that a student's health status is directly related to his or her ability to learn.
"In the school setting, your boss is a non-medical person, so you have to establish a trusting relationship with your principal to support school success through healthcare assessment, intervention, and follow up for all children within the school setting," said Cook.
Gainous is also aware of her role as a school leader in regard to overall student success.
"Our goal as school nurses is to reduce student absences by promoting health education and implementing solutions for health or medical related issues at school. We rely on communication and the trusting relationships that are built with administration, teachers, parents, and students to do this," said Gainous.
Nail reports that the basics of nursing are the same in a school setting or in a hospital with the same guidelines, rules, and regulations.
"The biggest difference is that when I worked in a hospital, I only had a very small amount of time to spend with my patients. As a school nurse, I have the opportunity to really get to know the students, seeing some of them on a daily basis and over the course of their entire high school career," said Nail.
Davis says that school nursing requires confidence and the ability to locate resources when help is needed.
"School nursing may be less 'clinical' but it requires a widespread knowledge of pediatric care and problems," said Davis.
Some of challenges that school nurses face involve building relationships between home and school because they truly wish for the care they provide to go beyond the school day.
"It's tough trying to educate parents and students on illnesses, then seeing them make bad choices," said Cook.
"The hardest part is building and establishing a foundation of trust with the students and parents. It is important to keep and maintain a positive relationship with them in order to promote a healthy learning environment and make sure every student's health needs are met," said Gainous.
"One challenge I face as a school nurse is a lack of resources outside of the school to help the children beyond what I can provide inside of the school," said Davis.
Cone states that managing chronic conditions like diabetes and seizures can involve consulting with outside medical professionals to discuss an alternative plan or different management.
"You cannot just put a band aid on that and make it better," said Cone.
Beyond any challenges, these nurses are regularly rewarded with knowledge that they can make a difference.
Cook reports taking care of diabetics, kidney transplant patients, asthmatics, Sickle Cell Anemia students, and students with seizures.
"It's a very rewarding career; I feel like I make a difference every day!" said Cook.
Cone recalls several years ago, she had a student who came in not feeling well and looking very pale.
"After checking vital signs and listening to his lungs, I called EMS and it turned out he had a collapsed lung!" said Cone.
Nail hopes to make difference, even if it's a small one, every single day. She has a sign in her clinic that says: Students must be healthy to be educated and educated to be healthy.
"I try to live by those words and do what I can to keep our students healthy and happy," said Nail.
Davis views her ability to advocate for the children and their health and wellbeing as a delight. She loves being able to follow up with students to see that they received the medical help they need outside of the school because of how she was able to help their parents locate resources.
"I honestly feel that the biggest impact I have on the students is making them feel seen, heard, and loved," said Davis.
Cone's favorite part of her job is watching her sixth grade "babies" grow up, become independent, and graduate.
Cook reinforced that her job is to reduce absenteeism.
"Y'all might think you can fool your momma, but you aren't going to fool a School RN!" teased Cook.
Gainous recalls her previous job in labor and delivery and believed that helping bring a life into this world was the best feeling ever.
"Now I get to see and help mold a lot of those same babies into smart, beautiful, and healthy children," said Gainous.
Davis said, "We, as school nurses, rely on each other for support and guidance. I feel very fortunate to work alongside these wonderful nurses."
Davis said that being a part of Thomasville City Schools, specifically Harper Elementary, has changed her life and heart for the better.
"These students help me more than I could ever help them! They truly light up my life," said Davis.